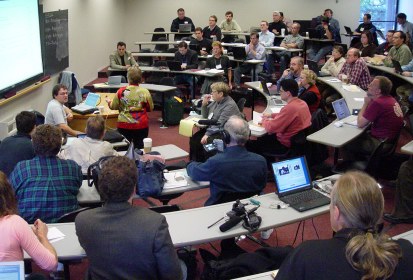 Some observations from BloggerCon which turned out to be just a sensational couple of days:
I think the most striking thing to me was the demographics of the people in that room. Out of 140 or so, there were three people who managed enough courage to raise their hands when Republicans were asked to show themselves. There was one African American (Oliver Willis)on the first day, a handful of Asian-Americans, and a fairly small number of women. There was little change on day 2. White males held most of the microphones. As Oliver so eloquently says, "a technology that is mostly the pursuit of upper middle class white males does diddly to change the real world." I don't think anyone who attended can argue that the upper edges of the blogosphere is a highly intellectual, highly motivated, well-funded white male group that for better or worse is pretty full of itself. The discussion on Saturday morning about where this is all going to take us was borderline absurd, I thought, with the effusive optimism that this technology was going to change the world. Some were saying it was another step on the road to being able to read each other's minds. (I'm serious.) Despite all of the potential I feel Web logs have in a number of areas of life outside education even, I think we have a long, long way to go.
Blogging is work. It takes analysis, thinking and time. And it takes commitment. (Note the Perseus Blog Survey that said that 66% of the 4 million-plus blogs out there haven't been updated in over two months.) I watch too many C-Span call in programs to believe that the collective citizenry in this country, at least, is anywhere near motivated and reflective enough to make good use of Web logs in ways that will change the world in any significant way. (The Dean blog, however, is one exception, and one of the more interesting threads of the conference was the whole discussion on just what effects blogging will have on the political process.) Now, that doesn't mean it can't be that way someday. But I really think that's where education and teaching come in.
Good Web logs demand thought, clarity, analytical thinking, reflection, and more. (Ed Cone made this more than clear when discussing the problems with the Edwards Web log.) Think about what might happen if we start seriously integrating these tools into our teaching. Think about the level of literacy we could achieve for our students (and our teachers, by the way,) not just reading and writing literacy but media literacy, political literacy, and social literacy. Yeah, there is a great deal of potential. But this weekend has made me think I need to retract all that "tipping point" folly I've engaged in over the past year. Joe is right…we're not even close.
Pat's impassioned and articulate call for access for all drew applause from the audience, but I think it's interesting that I haven't seen it mentioned on any of the Web logs of those in attendance. (Transcript, kind of, here.) Pat's panelmate Kaye Trammell got mentions for her descriptions of the effects of blogs on her journalist students (big deal ;0)…seriously, she was great, and I'm gonna have to get in touch with her about my efforts there too,) but I don't think most in attendance "get it" when it comes to the issues here. In the technology seminar yesterday, during a discussion of how we can make the tools better, I said "don't forget to ask the teachers" when developing new interfaces and tools. When I said that the current tools aren't cutting it, Dave Winer asked "what doesn't work?" I said yeah, it's easy to add text. But until we get to the point where audio and video and pictures and more are easily integrated into the process, we're not going to get nearly as far as we could. And the security issues are important too. The good news is a couple of people came up to me afterwards and started talking about their efforts at opensource solutions and their ideas for hosting and access. Finally. I've come away with a better sense that people are recognizing the potential in education. And interestingly, it sounds like those with plans aren't thinking about making money on it, which is obviously a good thing.
The whole blogging as journalism thread was truly interesting. Len Apcar, who is the editor of the NY Times on the Web, was there to talk about his ruminations about Web logs and his site. He did note Nicholas Kristoff's "blog" and seemed to be leaning toward more of the same, which I think would be great. But it's definitely a struggle. (Christopher Lydon, who sounds exactly in person as he did on NPR, interviwed Apcar about his plans.) I introduced myself to Josh Marshall whose Web log is one of my favorites, and he said he'd give me a hand in getting my journalism students some mentors. (Maybe he'd be willing too???) And Glen Reynolds, Doc Searles, Scott Rosenberg, and more were all really interesting to listen to. Jay Rosen of Press Think should have been a panelist as well.
Maybe more later. Suffice to say, however, I'm going to BloggerCon 2004.
—–